Title: The Opportunist (Love Me With Lies #1) by Tarryn Fisher
Rating: 5/5 (Heartachingly and heartbreakingly GOOD.)
Synopsis:
Olivia Kaspen has just discovered that her ex-boyfriend, Caleb Drake, has lost his memory. With an already lousy reputation for taking advantage of situations, Olivia must decide how far she is willing to go to get Caleb back. Wrestling to keep her true identity and their sordid past under wraps, Olivia's greatest obstacle is Caleb's wicked, new girlfriend; Leah Smith. It is a race to the finish as these two vipers engage in a vicious tug of war to possess a man who no longer remembers them. But, soon enough Olivia must face the consequences of her lies, and in the process discover that sometimes love falls short of redemption.
REVIEW:
Summary of my emotions:
Book realization:
And while you're on it, why not listen to this song while you read this book just to give the knife poised on your chest a little more encouragement to plunge deeper and deeper gutting every single skin and cell that gets on its way?
First of all, I want to warn everyone who's reading this that there may be (unconscious) spoilers within this review or hints of what's going to hit you once you dive into this book. Do know though, that I tried my best to give a spoiler-free review but right now, I'm more inclined to nurse off my bruised heart by pouring every single feeling I felt while reading this book.
I did not know what to expect when I picked up this book because I love to be surprised when it comes to gems awaiting to be discovered. And this one is a diamond talked about by a lot of book bloggers but not talked about enough! I mean... this book needs to be recognized more! So if you dear reader has not yet read this one and still looking for an affirmation that you're picking possibly (most definitely) one of your best book reads this year--- you are wasting time! Hurry up and start reading this book.
Almost 10% in Florida with Olivia and Caleb and Cammie and Leah and Jim and everyone else, my heart is aching!!! Aching as in damn-this-book-hurts-too-much-i-think-i-want-to-cry kind of aching! The type of hurt wherein I don't want to read further because I know it will get uglier until I can't contain the pain blooming in my chest. Whenever I can't take the pain anymore I stop reading it and breathe and think for a second that I'm better off with my own bubble full of happy endings and that I don't wanna know what kind of ugly made Olivia and Caleb break up. But then I also feel like I can't stop reading. I'm in too deep, rooted so strong, basking in the sweetness and bitterness of this book that I. JUST. CAN'T. STOP. One moment I'm melting in the warmth of everything Olivia and Caleb but then the story takes two steps back and hammers my heart into tiny little pieces. I feel like I'm hyperventilating because the pain is too much to take in, that I can't almost breathe. I also felt a connection with Olivia when it comes to her personality. I'm a little bit like her when it comes to little, normal details. Maybe that's why I felt her pain so much it feels like I'm the one who had a bad break up with her ex.
The twists in the story... I just can't put it into words. You have to read it yourself, ride the roller coaster of emotions and feel like you're the one dealing with a broken heart. And as much as Olivia blames herself too much for their destruction, you have to give her the benefit of the doubt. Remember, every action has a reaction. *winks* Know that they both messed up (badly and miserably) something that could have been good.
I was finishing this book earlier today in the library in our University and I swear this was how I looked like (I was trying so freaking hard not to cry because I was in a public place. What would people think if I started bawling out there? So I had to suppress my emotions!):
"I will love again, Olivia, you will hurt forever. What you've done is…You are worthless because you make yourself that way. You will remember me every day for the rest of your life because I was the one and you threw me away." And then he left."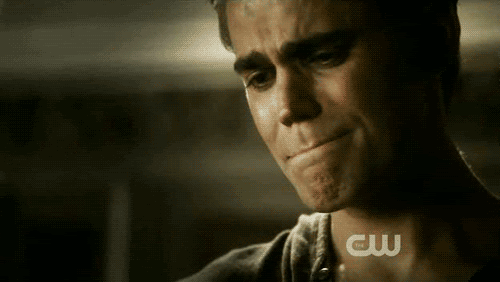 "I was the one and you threw me away.."
"I was the one and you threw me away.."
"I was the one and you threw me away.."
"I was the one and you threw me away.."
"I was the one and you threw me away.."
That line was pretty much my undoing. If I could throw tantrums inside the library, I would have. And I was hoping deep inside my freaking heart that this would not freaking happen to me. Because then, it will hurt too much. And I'd rather die than feel that much pain.
I read Tarryn Fisher's bio on Goodreads and it says there: "
I would like to write a novel that every, single person loves, but not even J.K. Rowling could do that. Instead, I try to write stories that pull on people's emotions. I believe that sadness is the most powerful emotion, and swirled with regret the two become a dominating force."
-I would just like to say that you have accomplished that goal very well in The Opportunist!! Just.. damn! It felt like my heart was in a tight grip all throughout the book! And it kept squeezing and squeezing until I 'm not sure if another book can make me feel this way.
This book ruined me. Gutted me open and pour a sack of salt on my open wounds. Raw emotions. Pure honesty. Striking words. Go figure.